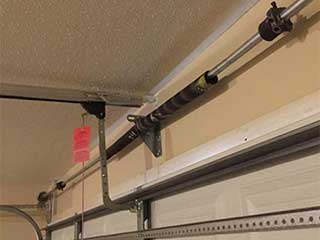 Your garage door springs operate like tendons in the human body, and are therefore incredibly important. There are two main types, each with its own way of achieving a similar goal – supporting your garage door's weight.
Extension Type Springs
The extension spring is the older of the two types. It stretches and contracts in order to generate the necessary tension, which makes it more liable to suffer wear and tear damage and eventually break. When that happens, it can go flying around your garage, potentially injuring any person or pet in its path, or causing some property damage at the very least. This is why it's considered the less safe option.
Torsion Springs For the Win
The torsion type springs, on the other hand, are the newer variety. They are considered far stronger, more durable, and safer to boot. Instead of stretching and contracting, these springs twist and unwind in order to generate the required tension, which means they can support a greater amount of weight, and suffer less wear and tear damage in the process. Also, due to the nature of their operation, they are far less likely to go flying if they snap.
Professional Maintenance and Timely Replacement
Routine maintenance is a service we offer all of our customers. Our experienced technicians will examine every inch of your garage door system, paying particular attention to the springs. With some proper lubrication and adjustment, these components can last for up to twice or three times their estimated lifespans. If our inspection does find something wrong with them, we'll replace them on the spot, which will save you the hassle and inconvenience of dealing with an unexpected accident.
Expert Assistance is Crucial
If you think of trying to deal with any spring related problem by yourself – think again. These components are extremely dangerous to handle without the proper training. That's what we're here for. Call our team at Garage Door Repair Elk Grove today, and we'll take care of all of your problems.
When it comes to your door, we don't settle! We also offer:
Garage Door Off Track Repair
Emergency Broken Spring Replacement
Belt Drive Opener Installation
Part Replacement & Repair