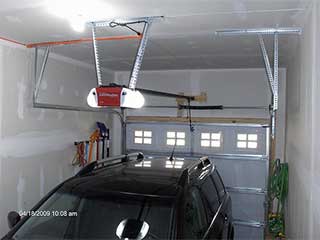 If you're a homeowner that's looking to get a new garage door opener installed, then we're the team to help you choose the best one. We also perform regular maintenance that will help your existing unit function optimally for as long as possible.
Solving Opener Related Problems
Our technicians specialize in fixing every type of garage door problem, with an emphasis on things that have something to do with the opener unit. Sometimes a motor gear can wear-down, other times the issue can be a fried electrical wire. Both of these issues can result in your door being rendered inoperable, or worse, dangerous to handle. That's where we come in. We can replace the damaged component, and perform a full inspection of your circuit board and motor to make sure nothing else is about to malfunction.
Finding The Best Unit
We have a large selection of garage door opener brands for you to choose from, and our technicians can install every single one of them to your complete satisfaction. There are certain things you'll want to consider when searching for a new garage door opener. The door's weight and size are important factors, but the first thing to figure out is which type of drive-system will be best suited to your specific needs?
The Belt, The Chain, and The Screw
Each of the three main types of opener drive systems have much to offer so if you'd like a truly detailed explanation, our experts can provide it. As for some general information - screw drive units are very popular, as they are highly capable of operating heavier doors, such as those made of steel or wood. Openers of this type can work very well in very cold or very hot temperatures. Another opener type that works well with heavier doors is the chain drive. This is the more traditional type of opener that you may be familiar with. It is very affordable, however, there's a reason for that. Chain-drive units often require a lot more maintenance. Finally, for lighter aluminum garage doors and a quite, smoother operation there is the belt drive models. No matter which one of the opener types you choose you can rest assured that our experts at Garage Door Repair Elk Grove have the knowledge to install, maintain, and repair them all.
The Famous Brands
Two opener brands you may be quite familiar with are Genie and Liftmaster. Genie has been making garage door openers since 1923. They have a long standing history of quality and innovation. Liftmaster has been in the garage door opener business for over a hundred years. A lot of the technology used by other opener brands was developed by Liftmaster. Craftsman and Sears are a bit lesser known brands, but when it comes to home improvement they are very much in the business of quality. Two other brands that you may want to consider are Marantec and Chamberlain, as they also make top quality garage door openers that are reliable and affordable.
Seek Professional Advice
At Garage Door Repair Elk Grove we can walk you through the different opener brands and help you choose one that's perfect for your needs and your budget. Call us today.
In addition, count on us for:
Liftmaster Garage Door Maintenance
Genie Garage Door Openers
Oil Tempered Torsion Springs
Bent Garage Door Track Repair