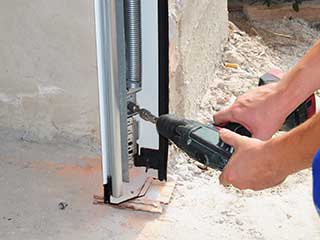 Being a successful garage door repair company is all about exceeding the expectations of your customers by providing them with a variety of different repair services that can fit their every need. Our team is dedicated to doing just that. A garage door that will not open for whatever reason can be a real hassle to deal with, not to mention the safety and security issues involved can make the situation dangerous as well. Our expert technicians are here to help you when that happens.
Emergency Assistance Service
Our experts understand the urgency of some situations, and always make every possible effort to come to your aid as soon as possible. Broken springs and dented tracks, for example, can not only render your door inoperable but also make it extremely dangerous to try and operate it.
A Fix For Every Part
Our customers know that if their door got off track, we can put it back into proper position. We have a solution to every problem, even a broken emergency release. If you have a sectional garage door and some - but not all - of its panels have gotten damaged, our technicians can replace the affected panels only, and save you the costs of installing a new door. No matter how small or big the problem you're facing seems to be, we can always help.
Solving Spring Related Issues
Garage door springs tend to get loose or break after an extended period of being used. Normal ones may last a decade or so with the right maintenance routine. Galvanized garage door springs, on the other hand, can last even longer. When one of them breaks, it's good practice to get the other one replaced as well, just like the brake pads in your car. If a spring breaks, your door won't be able to operate properly, and it will be genuinely dangerous to try and force it to open or close. Keep in mind, any situation that involves your garage door springs is not a DIY project. Only trained professionals, like our technicians at Garage Door Repair Elk Grove, should perform any required repairs or replacement.
Taking Care of Your Opener
Whether you have a Genie, Liftmaster or a Sears garage door opener, our experts can help you deal with any problem. An opener is an electro-mechanical device that allows your door's performance to become automated. As a result, it can suffer from all sorts of malfunctions, from a worn-out motor gear to a malfunctioning circuit board. We can repair the issue for you in a timely fashion.
Not Just Repairs
Our experts can also help you find a new opener that's perfectly suited for your home. If your bedroom is next to the garage we recommend a belt drive model, due to its quiet operation. Albeit a more noisy option, screw drive models are usually more affordable. If budget is your main concern, then a chain-drive unit is the way to go. It will be noisy but it will work.
Contact our experts at Garage Door Repair Elk Grove today to get the best professional advice and assistance around.
We also offer the following:
Torsion Spring Repair & Replacement
Garage Door Opener Track Maintenance
Overhead Door Installation
Garage Door Cable Replacement